KLINGER Thermoseal Offers digital services aligned with the KLINGER quality standards our customers around the world have come to expect and rely on.
GEP is a powerful quoting tool for gasket fabricators. By bringing high level material utilization functionality together with SQL databasing of your materials, GEP provides a web-based quoting program that can be accessed 24/7/365 by your team anywhere and on any device with Internet access.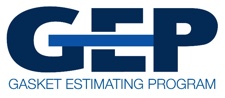 Our versatile gasket calculation software assists users in the selection of non-metallic gasket materials and is available for PC platforms and mobile devices.