High-performance multi-layer sheet
KLINGER Thermoseal's Multi-Layer Technology materials provide both exceptional interfacial and interstitial sealability. Conformable outer layers prevent leakage between the gasket and flanges and a strong high-density core provides structural support while preventing leakage through the gasket.
ML-N102 is a high-performance synthetic fiber and nitrile butadiene binder gasket material with good resistance to refrigerants and lubricating oils. Its unique Multi-Layer Technology structure provides exceptional low flange pressure sealability with exceptional torque retention.
Typical applications include heavy-duty diesel engines and compressors with intermittent operating temperatures up to 450°F (232°C).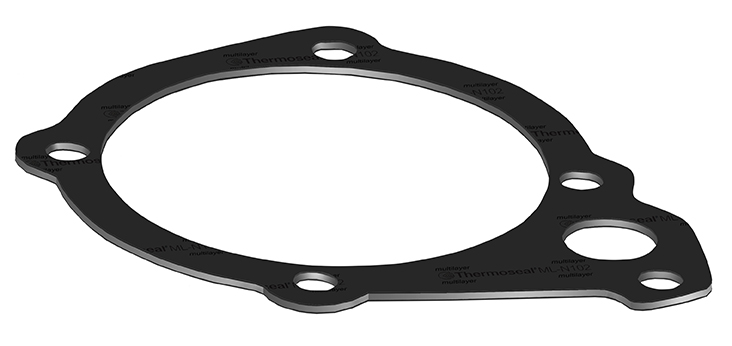 Typical Values Refer to 1/16" Thick Material Unless Noted
Temperature maximum
450°F (232°C)
Pressure maximum
1200 psi (8.3 MPa)
Density ASTM F1315
112 lb/ft (1.8 g/cm³)
Compressibility ASTM F36 J
8 - 14 %
Recovery ASTM F36 J
Minimum 50 %
Gas Permeability DIN 3535/6
< 0.3 ml/min
Weight Increase ASTM F146
  After immersion in Fuel B for 5h/73°F
 
Maximum 10 %
Thickness Increase ASTM F146
  After immersion in Oil IRM 901 for 5h/300°F
  After immersion in Fuel B for 5h/73°F
 
0 - 5 %
0 - 5 %
Creep relaxation ASTM F38 B (1/32")
Maximum 20 %
Sealability ASTM F37 (1/32")
< 0.20 ml/hr
ASTM F104 Line Call Out
F712121B3E11K6M4
Color
Black
The ability of a gasket to make and maintain a seal depends not only on the style and quality of the gasket material, but also on medium being sealed, the flange design, the amount of pressure applied to the gasket by the bolts and how the gasket is assembled onto the flanges and tightened. These factors are beyond the manufacturer's control.