KLINGER® Graphite Laminate SLS
The pure graphite gasket sheet with a smooth stainless steel insert
KLINGER® Graphite Laminate SLS is especially suitable for weak flanges at high temperatures up to 842°F (450°C). The gasket material consists of pure exfoliated layers of graphite, which are mechanically bonded to a 0.05 mm think, smooth, stainless steel insert. The insert aids material handling properties and also increases blow-out resistance. KLINGER® Graphite Laminate SLS is suitable for universal use especially in combination with weak flanges and for sealing of liquid level gauges.
In order to prevent the gasket material from sticking to the flange surface (even at high temperatures), the graphite surface can be given a non-stick coating at the customer's request. With this process, the gasket material's surface is coated and not impregnated.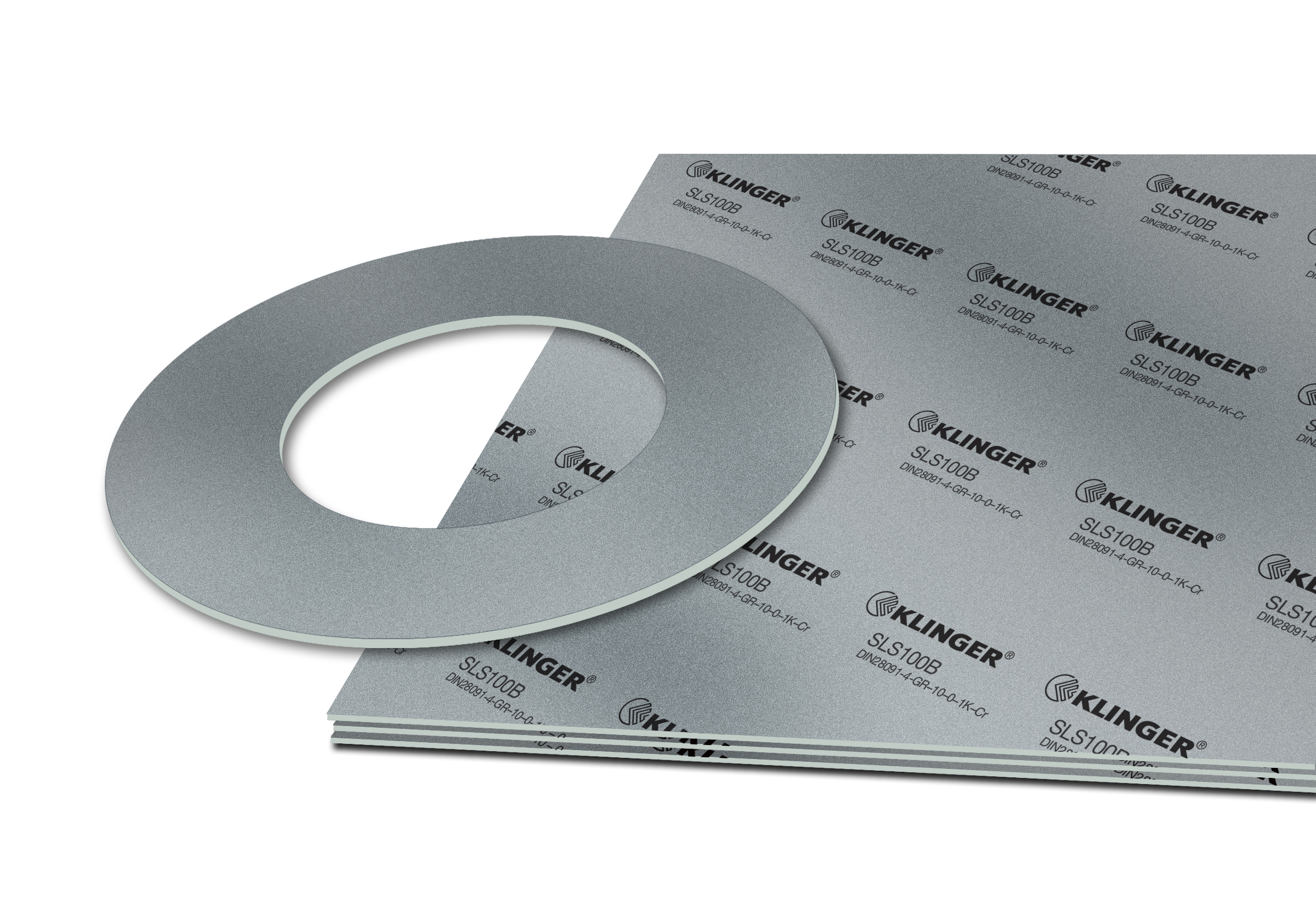 Typical Values Refer to 2.0 mm Thick Material 
Density DIN28090-2
1.0 g/cm³
Purity of Graphite DIN 51903
≥ 99.0 %
Metallic reinforcement
  Plain metal
  Thickness
  Number of sheets

AISI 316 (L)
0.05 mm
1
Compressibility ASTM F36A
35 - 50 %
Recovery ASTM F36A
 10 - 15 %
Creep relaxation DIN 52913 16h/50 MPa/300°C
≥ 46 MPa
KLINGER Cold/Hot Compression Test 50 MPa
Thickness Decrease 23°C
Thickness Decrease 300°C
 
40 - 50 %
1 - 4 %
Specific leak rate DIN 28090-2
< 0.10 mg/s x m
Chloride content of graphite layer DIN 28090-2
≤ 40 ppm
Color
Grey
Non-stick coating
Upon request
KEY FEATURES & BENEFITS
» Excellent chemical resistance
» Excellent high temperature resistance
» Provides excellent adaptability to any sealing surface
» Highly Compressible and compactable
» Seals irregular flanges
» Low gas permeability
» Low electrical resistance
CERTIFICATES AND APPROVALS
» DIN-DVGW
» Fire-Safe acc. to DIN EN ISO 10497
» BAM tested

The pressure/temperature graphs shown are the most current method of determining the suitability of a gasket material in a known environment. However, chemical compatibility must also be considered.
pT diagram for thickness 2.0 mm
: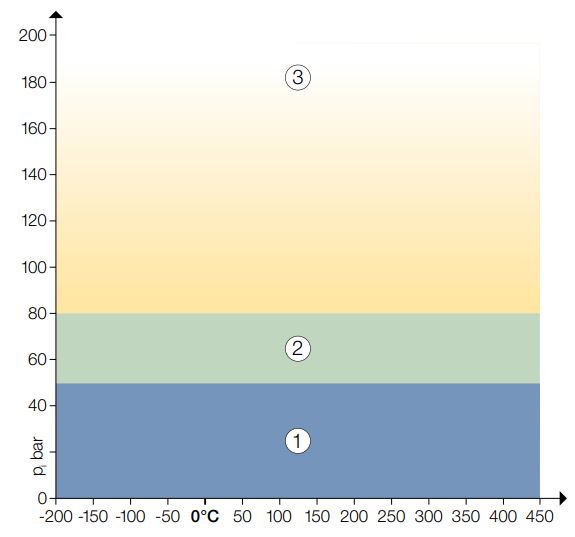 In area 1 the gasket material is suitable using common installment practices subject to chemical compatibility

In area 2 appropriate measures are necessary for installation of the gasket to ensure maximum performance. Please call or refer to KLINGERexpert for assistance.

In area 3 do not install gaskets in these applications without first referring to KLINGERexpert or contacting KLINGER Thermoseal's technical support service.
The ability of a gasket to make and maintain a seal depends not only on the style and quality of the gasket material, but also on medium being sealed, the flange design, the amount of pressure applied to the gasket by the bolts and how the gasket is assembled onto the flanges and tightened. These factors are beyond the manufacturer's control. Please take note of our installation manual in TECHNICAL RESOURCES.