KLINGER® Graphite MLX Multi Layer XTREME
High performance graphite material with several plain stainless steel foil inserts
KLINGER® Graphite Laminate MLX is a high performance material suitable in heavy-duty conditions because of its very high compressive strength. Gaskets from MLX material are an excellent choice for high pressure applications. MLX gaskets are robust and adapt to any sealing surface including irregular flanges.
KEY FEATURES AND BENEFITS
Excellent chemical resistance
Excellent torque retention
Extremely low stress relaxation
Stable physical properties over the whole temperature range
CERTIFICATES AND APPROVALS
Fire-Safe acc. to API 6FB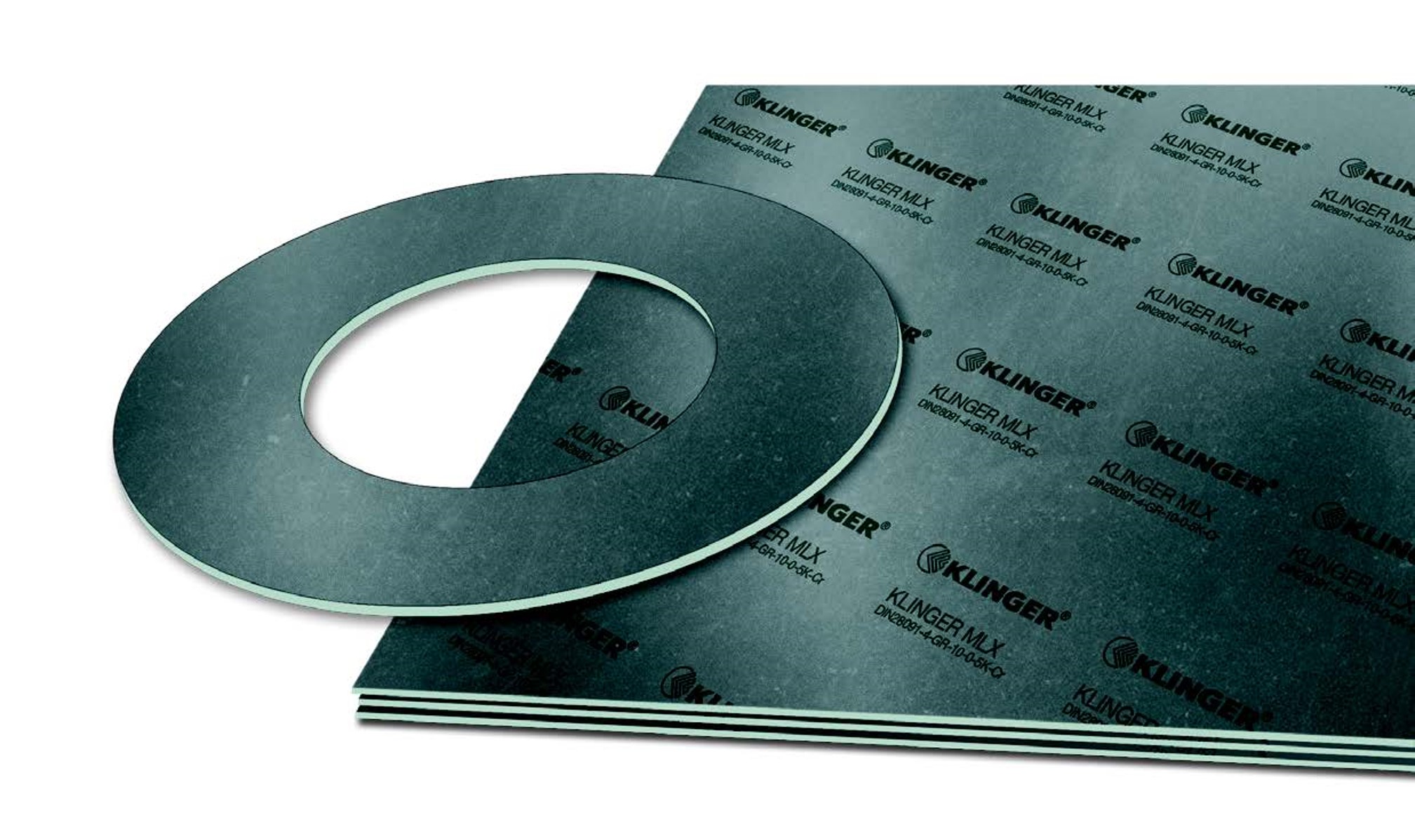 TYPICAL VALUES REFER TO 2.0 MM THICK MATERIAL UNLESS NOTED
Continuous service temperature (in oxidizing atmosphere) 
 ≤ 842°F (450°C)
Density of the Graphite
 1.1 ± 5%
Metallic reinforcement insert (0.05 mm): 316(L)

 1.0 mm: 1 Layer

 1.5 mm: 2 Layers

 2.0 mm: 3 Layers

 3.0 mm: 5 Layers

 4.0 mm: 7 Layers

Compressibility ASTM F36A
 30 - 40 %
Recovery ASTM F36A
 10 - 25 %
Creep relaxation DIN 52913 16h/50 MPa/300°C
 ≥ 45 MPa
Thermo Gravimetric analysis (TGA) DIN 28090-2 4h/670°C
 ≤ 3 %/h
Color
 Grey
The ability of a gasket to make and maintain a seal depends not only on the style and quality of the gasket material, but also on medium being sealed, the flange design, the amount of pressure applied to the gasket by the bolts and how the gasket is assembled onto the flanges and tightened. These factors are beyond the manufacturer's control.